Rome Photography Workshop featured in Canada's Globe and Mail
Globe and Mail, June 13, 2017
"Learn to be a Shooting Star" by Elizabeth Warkentin
Online version here: https://www.theglobeandmail.com/life/travel/destination-photo-workshops-put-a-different-lens-ontravel/article35280795/
The Globe and Mail. June 16, 2017
by Elizabeth Warkentin
Destination photo workshops in exotic locales such as Greece, Finland and Rome – or, for animal lovers, on safari – will help make your travel photos truly Instagram-worthy. Read more.
Rome Photography Workshop featured in Lonely Planet Traveller Magazine
Lonely Planet Traveller UK May 2017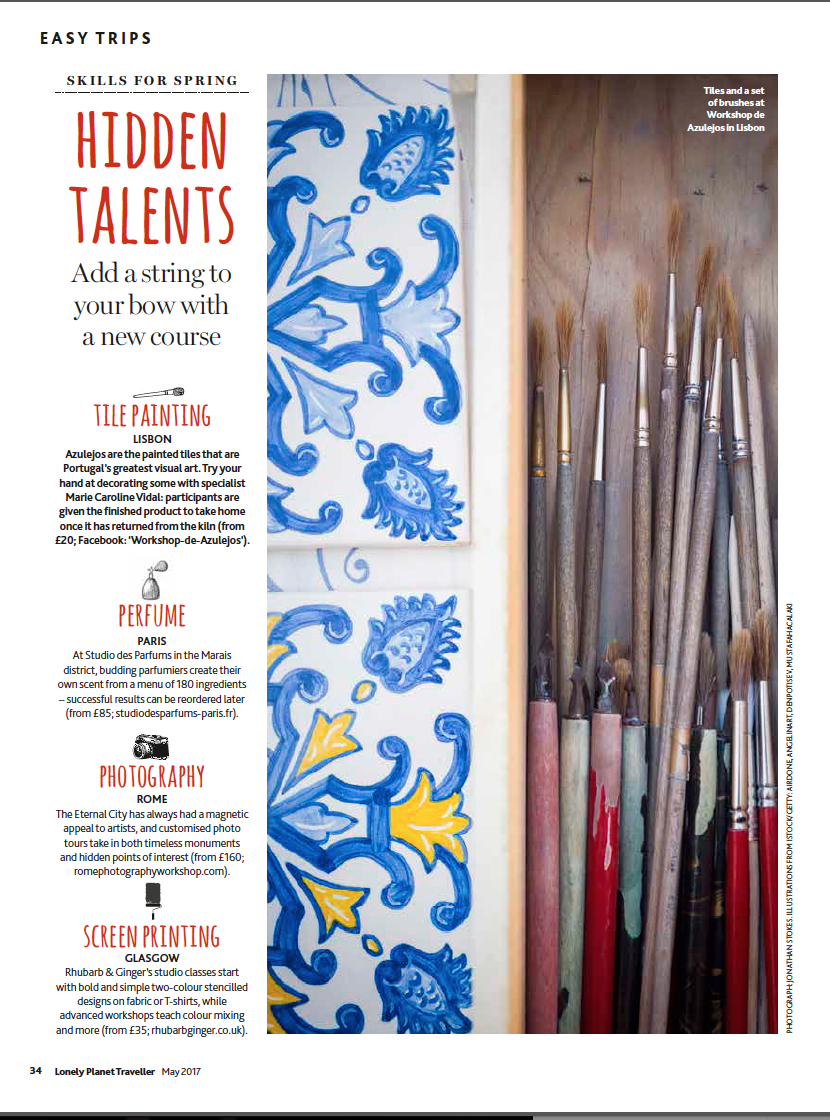 "Hidden Talents / Photography: The Eternal City always has appeal to artists, and customised photo tours take in both the timeless monuments and hidden points of interest."
Lonely Planet Traveller Germany May 2017
"FOTOGRAFIE: Die Ewige Stadt zieht Künstler seit jeher magisch an. Das gilt auch für Fotografen. Auf den Touren von Mauro Benedetti nähert man sich Roms Schönheiten mit der Kamera."
What our clients say about our workshops and photographers
I just want to say how very, very happy I am with both workshops that you organized for me.  Mauro could not have been nicer, more professional, or more of a pleasure with which to spend time.  Both workshops far exceeded my expectations.

I've included one of several photos I believe will make, after further refinement, an incredible panorama of the ceiling at Sant' Andrea della Valle.  This is just one of hundreds of great shots that Mauro and Giulio helped me capture.

Rome Photography Workshops is just terrific, and I plan to sing your praises near and far on Facebook and other social media."

-Gary S.
Workshops
City Night
Custom: Church Interiors
Mauro is extremely passionate and knowledgeable about photography and his enthusiasm for Rome and photography is contagious! He was awfully patient and his instruction meticulous.  I learned a lot of useful techniques during our workshop which I hope to build on in future. An added bonus was Mauro's in-depth knowledge of Rome and its history. I can highly recommend the morning light photography workshop and will certainly attend another one when I'm in Rome again. "
Yvette L.
I was able to schedule this city night photography tour at the last minute after being cancelled by another tour. Claudia was very helpful in finding someone to take care of me in a short notice. Brian was my workshop leader. I was very fortunate that he was available that night. He was very knowledgeable, easy to work with and accommodating to my needs. Thank you Rome Photography Workshop for providing me with an outstanding experience during my visit to Rome."
Cesar V.
Workshops
Night photography with Mauro was very special. I always wanted to photograph Fontana di Trevi at night. Mauro took his time to explain & show me how to take gorgeous night shots of the fountain . The photos were magnificent…. love them.  Mauro took me to some amazing places in Rome to photograph and always showing me how to take the perfect shot. He is a talented photographer with a great personality. Looking forward to my next workshop with him. Thank you Mauro."

Julie C.
Workshop
City Night
First, I wanted to say I had a fantastic time during two of your workshops. I did the Morning Light and the Evening Light with two different guides. What an educational and revealing day! I would never have found the interesting sites and compositions without these professional photographers, it truly helps to have someone with local knowledge. Both were engaging, helpful and more than willing help expand knowledge. They had incredible knowledge the city they call home Rome, it's history and people. One of them even got me comfortable with going completely manual in the 4 hours I spent with him. Thanks again."
Jerome, Toronto, ON 
Workshops
 Morning Light
 Evening Light